As America and the world are paralyzed by the COVID pandemic, we here at watermanatwork.com are hanging on just like everybody else. All you can really do is keep your distance from other people and wear a mask in any building. Might as well go fishing. As far as socially distant outdoor activities go, kayak fishing is pretty distant.
It's especially distant if you launch the kayaks by 4AM. In certain spots of the wide backwaters of the Colorado River, the fishing at night for largemouth bass has been as good, or better, than during the day. Definitely a different fishing experience at night, but I think a kayak is a real advantage in the dark.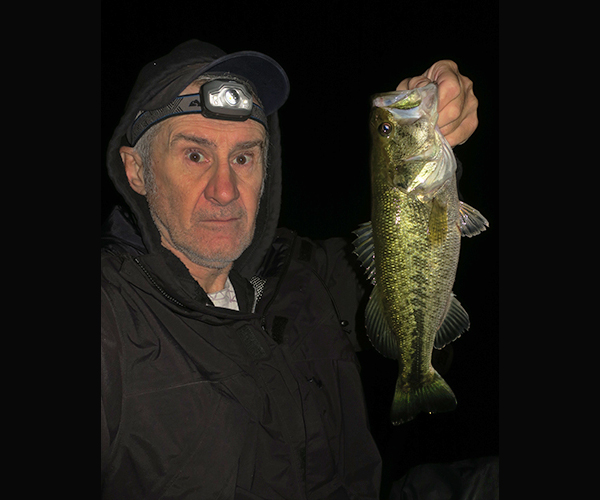 Just after sunrise, when there is no wind, it's almost like an optical illusion.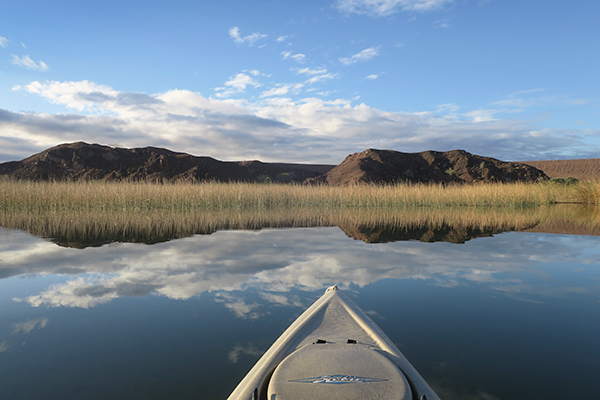 If you stare at the scenery long enough, you may lose your balance and fall out of the kayak. No worries, due to the low water level of the Colorado River, this water is only a few feet deep.
And for some reason, perhaps due to the shallow water where the fish can see you a long ways off, when the sun came up, the fishing turned off. Dodging desert wind storms, the only calm winds were at night. The fish were biting as well.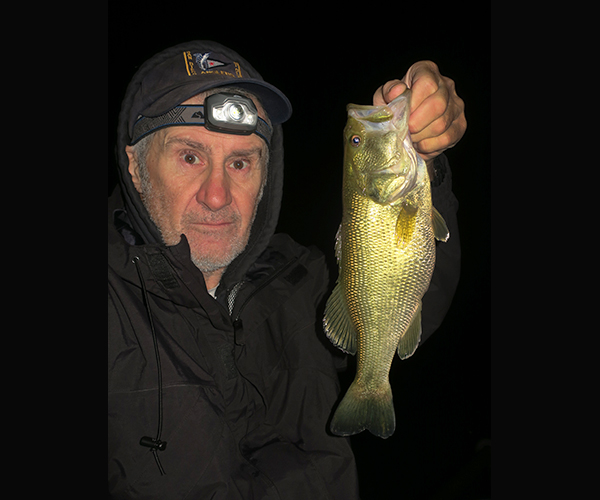 It isn't dead calm all the time and in the desert, the wind picks up fast and there's not much to block it. It takes a while to paddle back to the launch, into a headwind most of the time.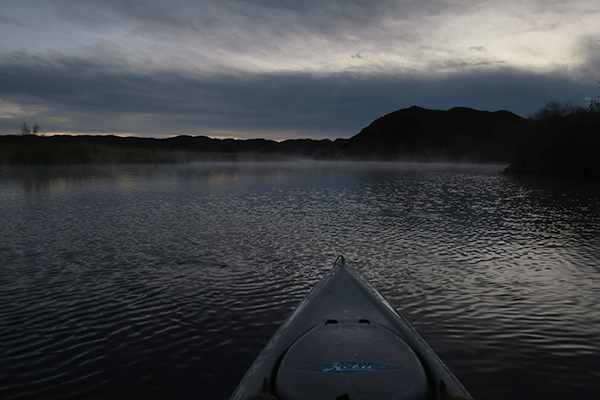 I'm sorry the only photos of the night fishing are of me holding up fish, but that's all I can manage when it's pitch black at night. I have to have photos or it didn't happen.
I'm wearing a glove because I cut myself with a knife. There were a few nice fish caught after sunrise.
After catching a nice bass at night just an hour or so earlier, I got this largemouth bass minutes after the sun rose over the desert hills. Haven't had a fill flash shot for Miller for awhile.
It's windy now, but supposed to die down in a couple days, so we're hoping for the best. We're working on getting the blog posts quicker, maybe even the same day, so check back soon and stay safe. That's most important.