The watermanatwork.com website has been updated to work better with mobile devices like mobile phones and tablets. The website now has a link on each page that connects to the same webpage, only optimized for mobile devices. You can stay on the "mobile" side of the website or return to the "regular" web pages. Eventually, the pages will be merged, there will be no "mobile" web pages. The main sections and main pages of the website will not change; bookmarks, links on forums, social media and search engines will continue to work. Might have to throw in an extra click or two, but everything should be there.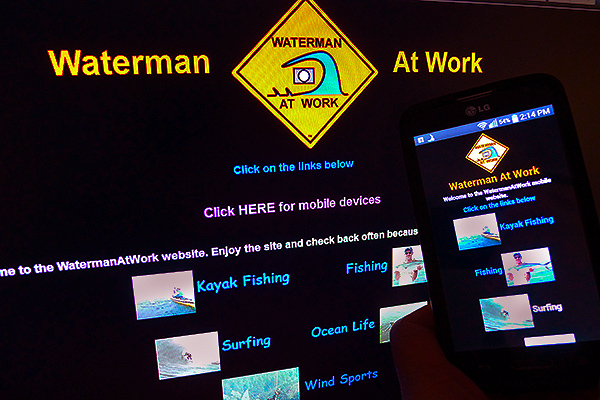 Some of the web pages do not work yet on mobile devices. This is especially true of the pages with video on them. The MPEG and Windows Media(WMV) videos do not work reliably on mobile devices so those videos have to be re-edited and encoded to a more suitable format. There is a lot of video on the watermanatwork.com website and it is going to be a lot of work to do that, it's going to take some time. The good news is that the videos will be much higher quality and have better sound, and they can be much longer. We have got a lot of video to add to the website along with the updated video that is already there.
If you want to comment or complain about something on the website, please email us or leave a comment here on this blog post. If you don't want the comment to be public, mention it and it won't be posted, but we'll read it.