We have had a series of winter storms here in the Pacific Northwest with intense cold and heavy snow. It's been called the worst winter in twenty years. People around here expect snow and cold in the winter, but this prolonged stretch of winter weather is more like you might find in the Rocky Mountains, not a hundred miles from the Pacific Ocean at 700′ elevation. It's been one blizzard after another leaving about three feet of snow on the ground.
Since a few days before Christmas, getting around has been very tough. The interstate through the area has been closed a number of times because of dangerous conditions, county roads remain anywhere from impassable to dangerous, with plenty of snow and black ice because the temperature has not been above freezing for more than a week. There were a couple storms that dumped about a foot of snow each just a few hours apart, burying the area with snow.
It's been difficult to get to the WatermanAtWork World HQ because it is on a hill. Snow, ice, vehicles and hills do not work that well together. When we finally are able to make it up the road, we must use snowshoes to get up to the office.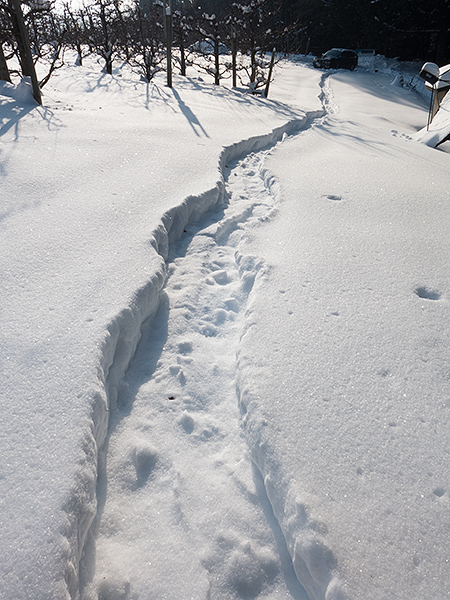 Needless to say, work on the watermanatwork.com website has slowed down a bit. We've been mostly digging out, which is more work than one might think. We are hoping the life threatening weather will taper off and we can get back to work.