We finally got a break in the weather and managed to get in a great day of kayak fishing for smallmouth bass on the Columbia River. It's been a windy and rainy spring in this part of the PacNW making it tough for kayak fishing. A calm day on the river, albeit with the entire PacNW rain, sun and everything in between weather show, is a rare thing this year so far.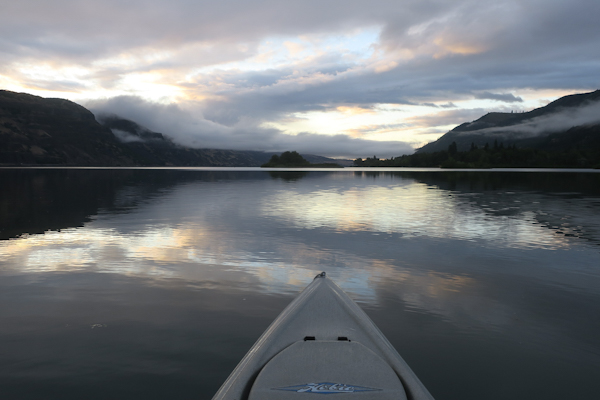 When I say "a day" of fishing, I mean one day. The next day the wind has come up again with another round of rain and high wind storms coming up for the next four or five days.
The day started out overcast and calm with intermittent drizzle. The fishing was a little slow to get started, but the Columbia River water level is very high and once we found where the bass were hanging out, the fishing was very good. A rainstorm passed through, but when the fishing is good you hardly notice.
Due to the changing water levels of the river, it can be like fishing different spots. The smallmouth bass move around as the water level and temperature change. You have to paddle around looking for them, but they are nearly always around rocks or some kind of structure.
There is a lot of seaweed and algae in the water. Usually, it backs off in the cold water of winter and grows very quickly as the water warms up towards summer. The water is not that warm, yet the aquatic vegetation, especially the slimy, free floating algae, is already taking over the river. When we get fishing again, we'll check out some other spots so stop back soon.